The following is an interview with creature creator Kathryn Zalecka. I've long been a fan of Kathryn's art style but especially a fan of her main race the Easkull, so I was rather excited when she agreed to do this interview. However, I must make a public apology to Kathryn as this interview was done month's ago but I've only just published it. If you have questions for Kathryn please leave them in the comments below and I'll be sure she sees them.
Interview with Kathryn Zalecka.
Hi Kathryn,
Thank you for taking the time out to answer a few questions for The World Building School. You've created a fantastic race known as the Easkull and we'll discuss them later but first can you tell us a little more about yourself and your art? When did you start, what inspires and drives you etc.
Kathryn Zalecka: Thank You for inviting me to do this, Nathan. I was practically born with a pencil in my hand. I remember drawing in elementary, I remember drawing in preschool. Whatever chance I got I would draw, be it for myself or others. Some of my earliest family videos include me sleeping at my desk on a coloring book. As far as I can tell there was no outside factor to kick it all off. It just came to me as naturally as breathing. It started small, but I loved it. After coloring books all I drew was horses, and then it was the lion king stage then dinosaurs, dragons and I finally began to come up my own characters that stuck, and still stick to this day.
It might sound cheesy, but what made me create my first permanent character, and start my own story was seeing 'The Lord of the rings" and finding out about Weta Workshop and Concept Art. Until that day, all I ever wanted to be in life was a Disney Animator. I probably still have some self-taught flipbooks back from 90s. Now I'm all about concept art, creation of worlds and characters.
That's what drives me, the idea of creation; not just the outer design, but personalities, entire lives, relationships, histories and how everything functions in a particular world; and of course the goal of sharing those things through my artwork, clips, comics and ultimately my books.
Introduction to the Easkulls
WBS: For the benefit of our readers who may have not seen them before can you provide a little introduction to the Easkulls as a race/species?
Kathryn: What can I tell you without writing an entire encyclopedia entry…? They're a humanoid race that currently just wants to live in peace, grow and catch up to a more 'civilized' standard in order to eventually establish new relationships with existing societies and kingdoms. But with their unfavorable reputation it can sometimes be tough. Right now they have only one major city, while the rest of Easkulls still lead more of a nomadic life. It differs from clan to clan, individual to individual etc. Some are loners, some prefer company, some stick with larger groups.
How did you develop the look of the Easkulls?
WBS: One of the things I like about the Easkulls is their look. You've managed to create an original humanoid alien but with a 'familiar' feel to them. If I had to relate them to anything I'd say they have a look of a cow or bull. How did you arrive at this final design?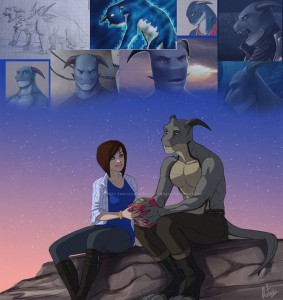 Kathryn: I'll gladly show you how these guys started out when I drew my first one in… 2002 or 2003. At the time I was fascinated with the Balrog from LOTR. Cave Troll too, in fact. So the first easkull picture was a love child of these two. Not long after that I created Allaya for some company and started to draw rough comic books that pretty much only I was able to read. Ever since then the world has been transforming from a total LOTR and other fantasy ripoff.
A couple of the times I have taken a major turn in the looks because of some unintentional way I drew Azuryt in a comic, but one that I liked and experimented with. As time went on I tried researching animals and their skulls to find something I can relate them to. And surprisingly I had a hard time finding an animal with a very similar facial structure. So yes, I've taken inspiration from bulls, from pitbulls, large dogs, big cats like lions, even seals. There was a time I used a howler monkey for teeth/jaw reference.
The final breakthrough happened in college, when I've decided to model Azuryt's head in zbrush. Having that 3d head changed everything. I could see that I have been drawing their heads properly only from one angle, so having an accurate reference started out the process of a slow finalization.
In any case, hope Azuryt's development shows enough.  They all come in different shapes, sizes and colors. Usually less exotic, but you get some less vibrant oranges and reds.
The 3 types of Easkull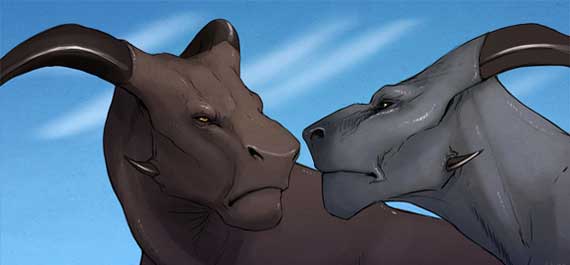 WBS: Can you tell us more about the 3 types of Easkulls and the relationship between them? Also what inspired you to create the 3 rather than just have one?
Kathryn: Nowadays I find myself stepping back from the idea of three. Technically there are two from the biological standpoint. The three existed due to a cultural difference. It was meant to separate those who still lead simple, more savage lives so to say, versus the ones increasingly interested in more advanced, city life. Not to mention clothes. A lot of Easkulls in the city still aren't too fond of clothes.
So, at the moment there are simple wild, animal Easkulls, and the humanoids. Think: people and chimps. And it's the wild ones that give the rest a bad reputation. Some people don't distinguish them, some don't bother. It happens. Some of the extreme cases include humanoids being hunted due to being more challenging, smarter target.
I'll be honest with you; I have no idea whether or not I should figure out how the split came about from evolutionary standpoint. I have experimented with ideas of mixing two species that produced the humanoid version in the end (I think I need more distinguishable names for them I'm sorry. Wild and humanoid can get messy after repeating it few times), which would be a controversial idea if you know what I mean, but probably not possible biologically. I might just leave it be in the end.
 About your world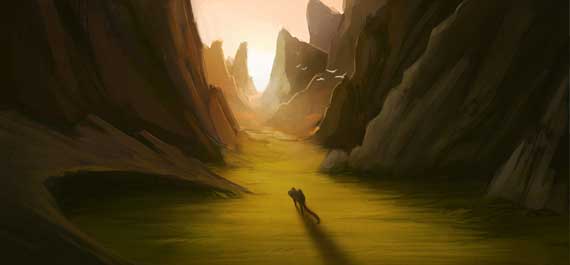 WBS: The world you've created is called Nysera. What can you tell us about this world and the other races, civilisations or stories that exist within it?
Kathryn: That it came through a lot of changes, hehe. I have yet to finish the most recent map, which I think so far has been 3 years in the making. And that's just for one continent. I'm not bothering myself much with the other as I don't plan going there anytime soon. I will tell you that it is the continent my humans and elves arrived from a couple centuries before the events in my novels. They found their place among other races and were able to trade knowledge and so on. It goes more for elves. Humans were less outreaching, faring on their own. But it will have to change soon.
Aside of humans and elves, most of my races are custom, that includes a lot of animals too, but I will leave the basic ones in such as horses, deer and the likes. Recently I considered sprucing up the human design to fit in more, since we're talking pretty much an alien planet (already started brainstorming on elf design) but what pulls me back is the sense of familiarity I don't want to lose. Perhaps if I began working without humans or elves to start with it would end up differently.
The developmental level differs between these races. Some of the reasons are preference, or just lack of certain knowledge or resources. Some people like the simple, open bordered life and have little threats to worry about, and others have already tasted war and erected walls. That's just a tip of the iceberg, however.
Advice on developing your own race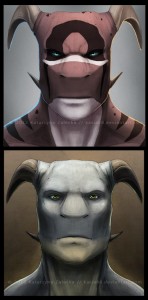 WBS: In your experience what is the number one thing to consider when developing a new race for a fantasy or sci-fi setting?
Kathryn: Hm, this is a tough one. There are few very important things I go by. I'll say it this way. If it's design-wise, I avoid going 'too human' which means no human nose or ears on my humanoids. I try to make something that isn't a mix of existing creatures. I will look at clouds, or use alchemy software to come up with some interesting faces instead of looking at a bunch of animals and making a 'collage character'. I guess inevitably some people will associate it with something. They always do. But that's human nature: To bring something less familiar to a familiar level.
Now, if we're talking about the whole concept of a race: It needs to be believable. Does it fit its environment? Does the anatomy fit functions it does and lifestyle it leads? I found it to be quite a time consuming process, and had to look through a lot of biological articles and ask a lot of science related questions in order to make them as realistic as possible.
People question things. But all in all it's still a great and enriching process. The more knowledge you possess the more you can think of, and have more believable characters.
I tend to compare it to cooking. The more ingredients you have, the more you can make.
How can people find out more about you?
WBS: If any of the WBSchool readers would like to see more of your work or even commission you where should they go?
Kathryn: They are welcome to visit my commissions page here or personal portfolio here. Finally there is of course my DeviantART account: Sythgara
Questions
If you have any questions for Kathryn about the Easkulls or even her creative process then please add them in the comments below and I'll be sure she receives them. Once again I'd like to thank Kathryn for doing this interview.