If you're looking for a little something to spice up your maps then here are a number of great map resources that I've collected from around the web. Most are free but I've also included a couple of premium options when they've been great.
You should also visit the Fantasy Map Market for more map related resources and goodies.
Here's what you can find in this guide
Fantasy map icons and brushes
Super simple map icons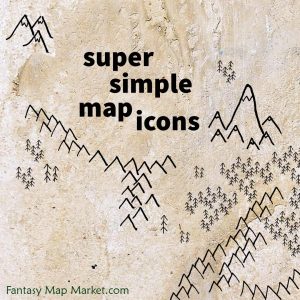 The Super simple map icon pack includes 23 hand drawn icons by Vancano, editor of the Worldbuilding School.
Blank maps
Map Generators
Vancano's Map Generator
Generate a world map for your novel or RPG using Photoshop.

This is a map generator I created for worldbuilder's who want help creating their world map but would then like a bit of control over how it looks. It includes 3 of my most popular map styles in the form of Photoshop actions.
So there you have it. A number of resources, icons and tools for creating fantasy maps.