Being able to represent land on a map is a key skill required by any cartographer. So this tutorial will show you exactly how to draw land.
Genesis 1:6 states "Let the water under the sky be gathered to one place, and let dry ground appear." (NIV)
Just as our real world requires dry land for land dwellers to live so too do our fantasy worlds. Though dry land is not something a fictional world must have, as films like Waterworld prove, however, for about 95% of the fantasy worlds out there dry land is a major component.
Each artist has their own way of representing land and this tutorial will follow the way I start my maps. I like to have digital maps drawn in photoshop but even with a wacom I prefer the organic feel of a pencil and paper.
The Pen is Mightier than The Tablet
For this exercise you will need:
1 x sheet of paper - I'm using A4 but any size will do
1 x Pencil – HB is fine for this
1 x Rubber – handy for eradicating pesky lines that love to wobble out of the pencil.
1. How to draw land.
Take your pencil and draw wavy a line along the page. Allow the pencil to flow telling your hand where to go. It's quite natural to fight against this and try to make a straight line, but don't. Simply enjoy the freedom.
By taking this approach you will be left with a firm rugged line on the paper. This rugged line can be used to develop a very cool natural coast to your fantasy land. Teaching you to master a wavy line might seem preschool, however it is the fundamental technique I use when designing landmass.
2. Now draw an island.
The next step is to define the island or, depending upon scale, continent.
To get the best shape for any land mass it's best to roughly sketch it out with a straight line first. Then once you have your straight line simply trace over it using a wavy line. The diagram below shows an example of this technique.
In fact it's also a good way of drawing wavy letters. Just draw the letters you want in bubble writing with a straight line, then trace over them with the wavy line – but that's a side thought.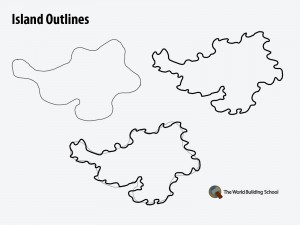 3. Moving On
This is a very basic tutorial but it's a technique I find works a treat. The beauty comes later on when you scan your map into a computer and apply more advanced techniques to your drawing.
Next Step
Have you signed up to the World Building email list? As a subscriber you'll receive an email every time a new article is added to the website. You can learn more here