Creating a book is hard work…
…getting that book into the hands of readers is even harder.
That is, if you haven't already built an audience who know, like and trust you.
"Whatever you want to do in the world, you need influence to make your voice count…In the simplest terms, a platform is permission. It's the right to speak to a group about a certain topic. And there's nothing necessarily wrong with wanting that." - Jeff Goins, Why building your own platform is essential.
To build an audience you need a platform.
In this article I'm going to show you the simplest way to build a platform, even if you have a limited budget. It all starts with your author website. It's not the best solution but it's better than not starting or waiting to be picked by a magical patron who wants to give you lots of money to "be an artist".
Artists with platforms make a living.
Authors sell books.
Dance Schools attract students.
Theatre Comapnies sell tickets.
Artisan Blacksmiths sell bespoke metal work. (Yes, I know an amazing blacksmith)
I could go on. It's that simple. Though for this article we're focusing on authors, because most worldbuilders I talk to are writing a book that they want to sell.
If you'd like to learn about a platform solution then I have something for you at the bottom of the article.
First, you need a Home Base
A home base is a website you control.
This is not your social media profile, Amazon author profile or any 3rd party social network.
Lets make it simple.
A website is the centre of your online platform, like the capital city of your kingdom. Social Media and other profiles are then the outpost or villages for your city. They're there to drive traffic back to your website. Not to be your main home on the web.
This is how Darren Rowse from Problogger explains it: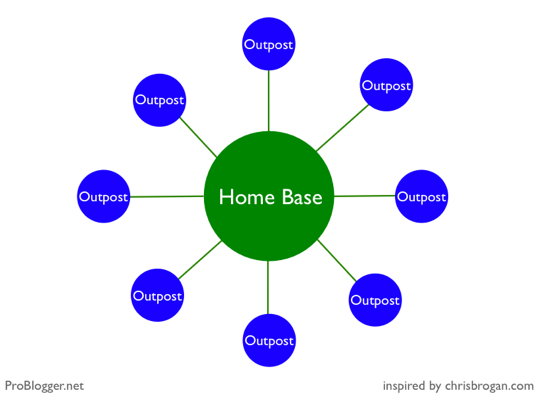 A home base is a place online that you own, that is your online 'home'. For me I have two home bases – ProBlogger and Digital Photography School. For me my home bases are blogs but for others they will be other types of websites.

Outposts are places that you have an online presence out in other parts of the web that you might not 'own'. I'd previously being using the word 'satellites' to describe this but I think 'outposts' works better.
Darren Rowse, Home Bases and Outposts
Authors with a home base are not held ransom to the commands of giants like Amazon, Facebook or Apple.
"…anyone can create content on sites like Facebook, but that content effectively belongs to Facebook. The more content we create for free, the more valuable Facebook becomes. We do the work, they reap the profit." – Sonia Simone, Digital Sharecropping
This is also true if you choose to create your world bible on a wiki such as wikia.com - sure it's easy but you're adding more value to their platform not your own.
Even Google holds little over you when you combine a website with an email list. And, I'll show you how to set up an email list in the future.
But let's get back to building your author website...
Ideally you'd hire a web designer to help build and maintain a website for you. However, if you're starting out and don't want to spend much money then you can start with a cheap alternative - it'll only cost you $120 to set up the website and then $3.95 per month for hosting.
For your author website I recommend self-hosted WordPress and here's why:
Over 23% of the web runs on WordPress. It's free software.
It has a strong community.
When you're ready to expand and "turn pro" you can upgrade your website with better hosting, themes and plugins.
Sure, you could focus all of your effort on Tumblr, Google+ or Facebook
"But what happens when Facebook thinks you've done something that violates their terms of service and deletes your account? Or changes the way you're allowed to talk with your customers?" – Sonia Simone, Digital Sharecropping
Still not convinced you need your own author website?
Let's hear from Jonny B. Truant and Sean Platt from Sterling and Stone - two highly successful self-published authors:
They've published a book titled "Write. Publish. Repeat." that lays the framework for turning your story into a business.
"...there's a problem with relying on booksellers, social media, or various other online communities for your platform. Anyone have a guess what it is?

So many writers fail to understand this to their significant detriment: All of the above are examples of platforms owned by other parties, and it's a big mistake to rely on a platform you don't own, and hence control." - Jonny B. Truant & Sean Platt, Write. Publish. Repeat, P230.
and
"If you build your own platform, you'll have a buffer against change. Facebook suddenly vanishes? No problem; you'll still have your email list, and can direct your readers to the next great social network you choose to join." - Jonny B. Truant & Sean Platt, Write. Publish. Repeat, P231.
How to build your author website for $67 per year
Here are the costs:
Process of building a home base
Visit Bluehost
Sign up for an account
Add your domain name
Have WordPress installed
Check Permalinks
Add a page
Add content
Begin promoting
And there you have it.
Do you want to write and tell stores without worrying about a website?
Next month I'm launching The Worldbuilder Platform to beta customers. This is a completely done for you website service so you can focus on writing your stories and connecting with your fans while I take care of your website platform.
It's built using WordPress and The Genesis Framework. When you want something updating or adding to the website you can either login and upload it yourself or email the content to me and I'll upload it for you.
Register your interest by visiting dedicated page here.